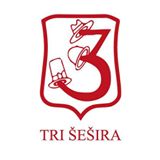 O restoranu "Tri šešira"
Beogradski restoran "Tri šešira" čuven na Balkanu, osnovan 1864. godine, je mesto okupljanja najpoznatijih ličnosti iz Evrope i sveta. Građani su u njemu nalazili radost života, pesnici inspiraciju za antologijske stihove, slikari su dobijali viziju za svoja napoznatija dela. Novinari, sportisti i političari su se tu sretali sa istorijom srpskog podneblja.
Svi gosti, privučeni gostoljubivošću osoblja restorana dali su snažan pečat ovom kultnom mestu boemske četvrti Skadarlije. 
Za savremenike ulazak u "Tri šešira" je kao ulazak u vremeplov. 
Zato nakrivite šešir pa kod "Tri šešira".
About "Tri šešira"
Belgarde restaurant "Three hats", famous throughout the Balkan, established in 1864, is a place where some of the most popular people from Europe and the world gathered. Here, visitors found "joie de vivre", poets the inspiration for the greats verses and painters had visions of their most celebrated works. Journalists, sportsmen and politicans where making Serbian history here. All patrons, attracted to the restaurant's  hospitability, life a strong mark at this renowned spot of bohemian quarter of Skadarlia street.
For contemporaries, entering the "Three Hats" is like stepping into the machine. 
Place your hat a bit on the side, and come to "Three Hats".